Author ~ Robert Logan Rogers - Mr. Rungle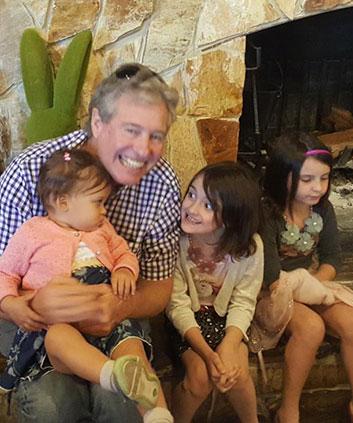 Meet Robert Logan Rogers
Robert Logan Rogers originally wrote Rungle in the Jungle in the late 1980's. As the night-time story teller for his children, Rogers created this story using their names for the main characters: Jessica the Giraffe, Joshua the Jaguar, and Timmy the Tiger. After twenty years, and several failed attempts at bringing the story to life, Rogers was introduced to Rachel McCoy. McCoy was able to capture the true nature of the characters with her vivid illustrations.
Logan began his sequel to Rungle in the Jungle because of a question asked him by a high school girlfriend ~ she wanted to know why Jessica the Giraffe had seemingly disappeared from the narrative of the story toward the end of the book. She was nowhere to be found, while the two heroes, Joshua the Jaguar and Timmy the Tiger, finished by winning the race. This motivated Logan to give prominence to Jessica the Giraffe, by giving her a full platform to dream of being a bride.
Meanwhile, Rachel McCoy was not interested in the laborious task of hand drawing, with colored pencils, an entire new book. Now Logan had to find a new illustrator...someone who could capture Rachel's style, yet with the creativity to make it her own. Enter Ashley Otis! Logan met her through his hairstylist, Kelly, who is also Ashley's sister. The story has now been written and each illustration is being completed, one at a time.
The stories for Logan will continue into his golden years because he had been read to as a child with Winnie the Pooh and his pal Tigger. His dad nicknamed him Tigger because he could never sit still. As he looks forward to beginning his 70th year of life, his granddaughters will too march to the same parade.